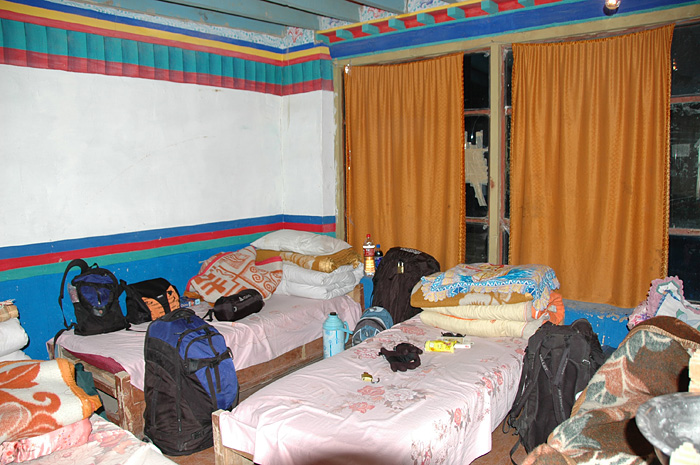 Everest Base Camp, Tibet | 30 October, 2006 | $5 (my portion of bill – shared with 3 others)
Despite what most people expect, there's not much to see at the base camp on Mt. Everest's north face, at least in late October. The large field of rocks below Everest stood bare, a small string of prayer flags waving against a group of boulders. Down a small road stood a small monastery and a single story hotel stood facing the mountain. The Nepalese side of Everest is much more popular to visit but requires a two week hike to reach. Leave it to China to build a road all the way to the base.
We weren't given the option to share two to a room and I found myself sleeping beside the man I had fought with the previous day. The tiny unheated room had a broken window which we cleverly covered with cardboard and tape only to find that we had cut off the little air supply available. I slept like a baby (wearing all of the clothes in my bag, hat, gloves and covered in four quilts) but Sui woke up vomiting from altitude sickness.
As cold as it was in our room, it was much colder outside. I was lucky to get through the night without needing the bathroom—an overflowing outhouse on the other side of the complex with no door. The women's toilet was so disgusting, the corners piled high with feces, that it came up in conversations with travelers I met months later. One woman told me that, when she needed the toilet in the middle of the night, she squatted in the courtyard instead of wandering through the darkness to the outhouse. The next morning she saw women scraping yellow ice off the ground.
I won't lie, doing anything at 18,192 feet (5,545 meters) is tough, even after spending a week in Lhasa. We were all overcome with headaches and laziness but did manage to walk from the hotel to base camp the next day before heading on to Tingri.
If you would like to see more photos from Mt. Everest Base Camp take a look in the gallery.