Traveling around the world (twice!) sounds crazy to most people, but I had to see it for myself.
Growing up my family traveled around the U.S. and even spent a few hours in Tijuana, Mexico. But I didn't really start traveling until I spent my junior year of college studying in Newcastle, England. England was a turning point for me. I saw how other people lived and discovered many things that were better than the U.S. and many things that were worse. I met new people with different viewpoints. I lived without a phone or a television. I developed an unhealthy obsession with fries covered in salt and vinegar.
During my time in England I was able to travel around Europe easily. My first big trip was the three-week winter break. I had planned on traveling with a few other Americans from the University of Illinois, but I overslept and missed the train. I frantically jumped on the next train to London and waited at Dover until 4am but no one showed up so I took the ferry across the channel just before dawn. When I got to Paris I spent three days searching for my friends before I accepted that I was alone. I changed my plans and saw the places I wanted to see and took my time to draw and wander around Europe. Missing the train was the best thing that ever happened to me.
Throughout the year I made my way across the UK, Ireland and most of Europe. Sometimes I traveled with a friend, most of the time I traveled alone. At the end of the year it was difficult to go back to school in rural Illinois after seeing so many amazing things. After graduation I traveled around Scandinavia and Baltic Europe before settling in with a design agency as a full-time a graphic designer. I knew time would be limited once I started working in America but I was very lucky to have an understanding boss who granted me three weeks of vacation a year while most of my friends had only one.
For the five years I worked and saved, but could only get away for three weeks at a time. Three weeks is a long time for most Americans who routinely give up vacation time because they are scared to leave more more than a long weekend. Three weeks quickly became limiting in where I could go and what I could see. During each trip I met greater numbers of people traveling for long periods of time, mostly Australians and Brits with work visas. Seeing the opportunities RTW travelers had, it was hard to limit my three weeks anymore. In three weeks I rushed through Turkey and Greece and then through Peru. But I wanted to see so much more, to go farther away and I needed more time.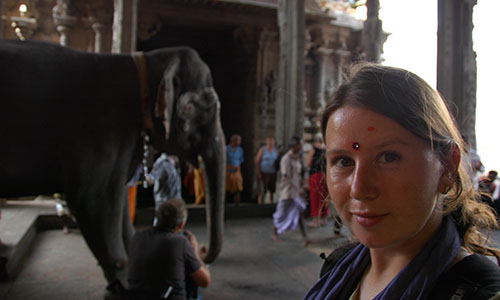 So, after years of saving money by living with my parents and driving a 20-year old car I was ready. In September, 2004 I left my design job and flew to Japan by myself. I had an onward ticket to China and a rough idea of the direction I was heading. I traveled overland through China and Vietnam before I took a few internal flights. Continuing on through Cambodia, Laos, Thailand and Myanmar by land I saw the landscape and people gradually change. Once I got to Bangkok I called home to hear the terrible news that my dad had been diagnosed with lung cancer. I made plans to fly home and headed to Myanmar for my last month in Southeast Asia.
Chicago was the same as I left it and I was lucky to have a few months to spend with my family before my dad died. My intention was always to go back and finish the RTW trip I had started, and it's what my dad would have wanted. There were so many places I still wanted to see and I wasn't ready to give up. I've decided to call the first part of my trip, from September, 2004 to March, 2005, 'Phase 1' and the second part of my trip, from June, 2006 to August 2007, 'Phase 2'.
When I started planning phase 2 I intended to start out where I had planned to go next—Tibet. To my mom's horror, I decided to not only finish my original trip, but added on a few other countries along the way. Since it's impossible to fly to Tibet directly from Chicago I realized I would need to fly from China. From there I reasoned that if I was already adding China into Phase 2 I might as well add in Mongolia—it's right there and 2006 was Mongolia's 800th anniversary! From there I traced routes in my atlas, realizing that I could follow the famous silk road out of Mongolia… and take a little detour to Central Asia. It snowballed from there.
If you're planning your own trip, or just curious, the details section should help and contains the infamous spreadsheet with detailed accounting of how much money I spent along the way. When I returned from traveling it was hard to think about updating the blog which I started way back in 2003. I honestly didn't think that anyone would be interested in reading unless I was covered in dirt on the back of a Land Rover in Africa. So many of my readers requested I continue posting about Chicago that I've kept it going. I've even done a little more travel lately, hitting my 50th country (Colombia) during my jetBlue All You Can Jet trip in 2010. Come on in and take a look around.