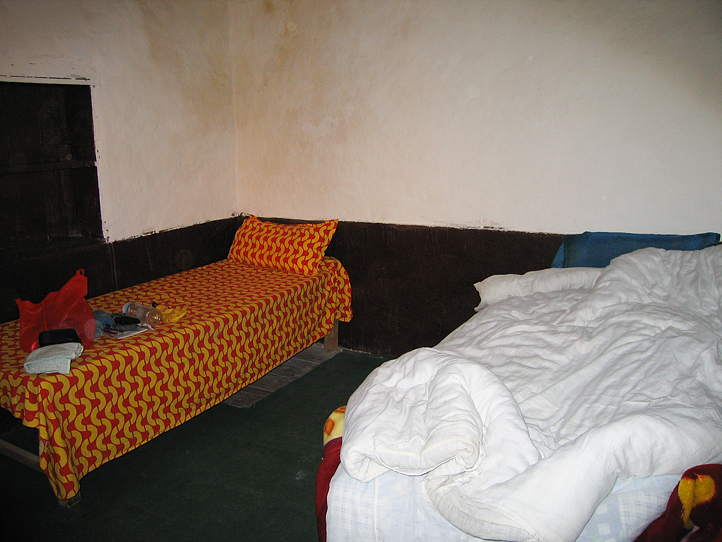 Kagbeni, Nepal | 17 November, 2006 | $1.39
After a lengthy stay in Kathmandu and six days in Pokhara I finally did the thing that one does in Nepal—hike. My longtime readers know I'm not a hiker and I don't enjoy hiking for its own sake. In Nepal, however, hiking is the best way to see gorgeous scenery and small village life. There are a number of routes one can take, Sui decided to hike the Annapurna Sanctuary trek to the base of the mountains, while I decided to head out on the Jomson Trek to see more village life. We both hired guides, a requirement at the time, and I bought plan tickets for both myself and my guide to the village of Jomsom.
The Jomsom Trek is the second half of the full Annapurna Circuit which takes around 20 days and includes the 17,700ft (5,416m) Thorong La Pass. Despite flying to Jomsom I spent the first two days hiking higher, toward the pass, to see some gorgeous scenery. I was lucky to walk off the plane in Jomsom and straight into a wedding procession down the main street, which happened to be our trekking route to Kagbeni. More than anything when traveling, certainly more than hiking, I'm interested in culture and costume so stumbling upon this celebration left me grinning and helped the three hours of uphill hiking I had to endure afterwards.
Jomsom is known as a "teahouse trek" because small hotels, or tea houses, are built along the way—no camping equipment required. Homemade apple pie is available all along the trek, along with bottled beer brought up on the backs of porters. We were able to peek into the Mustang Region, a restricted area off limits to those without special permits. Intrigued by its remoteness, beautiful scenery and proximity to Tibet, I vowed to come back someday.
My poor old 2004-era Canon's video quality doesn't hold up so well, but here's the wedding parade in Jomsom:
Nepalese Wedding in the Annapurnas from Megan Kearney on Vimeo.
Although sparse, there are a few more images from my trek to Kagbeni in the gallery