Despite my lack of updates, I managed to take quite a few trips this year. Only a few were non-work related but I try my best to spend a little time in each city I visit. Both St. Louis and Detroit trips were in and out in one day, but I always arrange extra time in New York and D.C.
Who knows what sort of travel is in store for me in 2013, but I hope for at least one international trip. I'm still toying with the idea of biking around Iceland but, for now, all I know is I'll be visiting New York and Atlanta.
January: Washington D.C.
February: St. Louis
March: Virginia, Syracuse
April: NYC, Jersey City
May: NYC, Jersey City
July: Washington D.C., Detroit
August: Denver
September: Connecticut, Houston
November: Sydney, Pittsburgh
December: Boston
After more than 39 hours in the air and nearly 19,000 miles flown across 15 flights I've gotten my money's worth out of Jet Blue's All You Can Jet promotion. With that much flying I had the in-flight commercials memorized and had no problem deciding what snacks to choose (plantain chips are interesting but you can't go wrong with the Munchies Mix).
I touched down in eight states and three countries over the course of 29 days this fall. Although it could be argued that this promotion is environmentally irresponsible, I've been consoling my guilt by remembering that these flights would have left even without the additional AYCJ passengers. You can see my route below—highlights were definitely Washington D.C. and Colombia but I enjoyed seeing family, friends and sights in all of my destinations.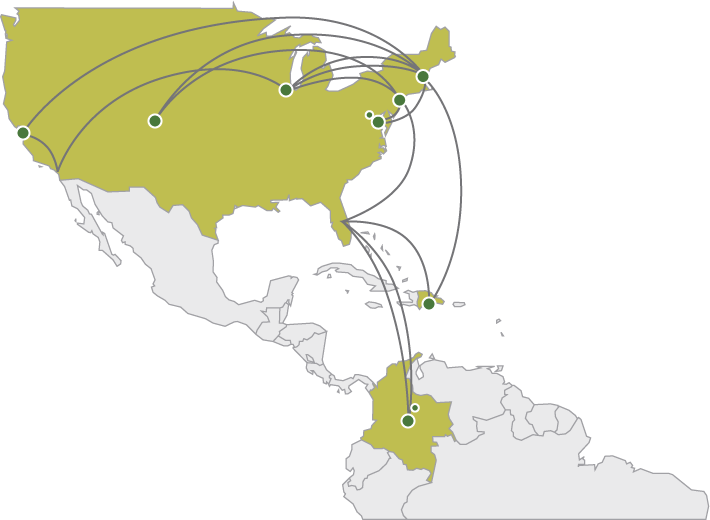 I had heard about the deal last year but didn't take advantage of it. This year I jumped on the chance to fly anywhere JetBlue flies for $499 for a month. The pass sold out in two days and I didn't have much time to plan my trip. JetBlue only flies direct to three locations from Chicago (Boston, New York and Long Beach) so any way I worked it I would have a lot of connections.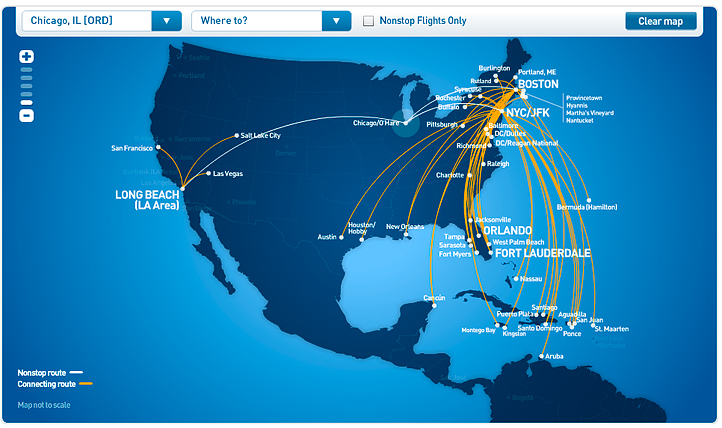 Most people don't realize that JetBlue flies to many international locations—mainly the Caribbean but also Colombia. After I confirmed my ticket I set about scouring the JetBlue website to see how I could get the most out of my pass, including a trip to Bogota. This is the first time I've flown JetBlue and after the whirlwind of booking 15 one-way flights I've become well-aquanted with the airline's routes, benefits and limitations.
I'm writing this during a layover in Boston on my way to Washington D.C., both cities I've never visited. This pass is giving me the opportunity to hop around to a number of cities in the U.S. I've been meaning to visit, reconnect with old friends and family and explore two international destinations. At the end of my All You Can Jet experience I will have officially traveled to 50 countries.