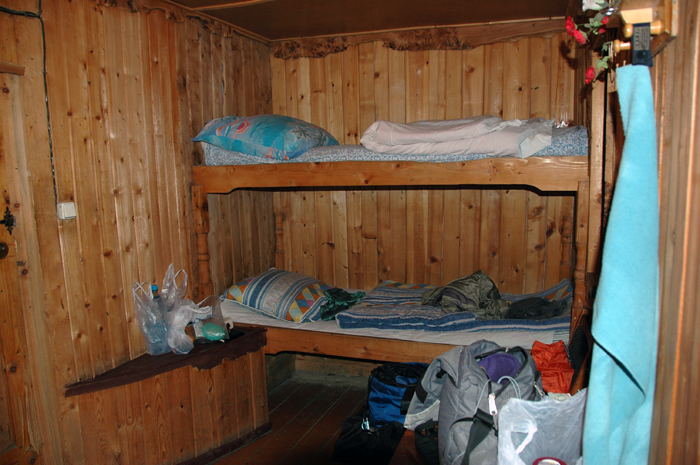 Karakol, Kyrgyzstan | 19 August, 2006 | $7
An interesting Russian man owned the large house where I slept in Karakol?a small town near the Eastern edge of Lake Issyk-Kul. Out back was a beautiful yard full of flowers and a garage heaped with old cars, motorcycles and miscellaneous metal parts and tools. Some people pitched tents in the yard to save money but I loved this little bunk room under the back stairs that felt like sleeping inside of an old ship. The owner gave me and another guest a ride to the animal market on the back of his ATV and I took him up on the opportunity to stay in his cabin out in beautiful Altan Arashan, which you'll see tomorrow.
The $7 fee included a full dinner in the formal dining room. It seemed expensive at the time but sitting down to a real dinner for once was definitely worth the price. You can see one of my dinners below, as well as a picture of one of the few other Americans I met traveling in Central Asia at the time (this guy was pretty interesting and I met people in Uzbekistan who had heard of the trouble he got into in Kyrgyzstan just after this picture was taken).