I?m not going to write too much about Bangkok. It was a completely surreal experience. Being in Thailand after so many months in China, Vietnam, Cambodia and Laos was shocking–shopping malls, a sky train and a 7-11 on every corner. It almost felt like being back home in a way and I took full advantage of that. For the past few months my diet had consisted mostly of rice, Oreo cookies and Beer Lao. Now I could choose between McDonalds, Dairy Queen, Burger King and Baskin Robbins for desert! I have no illusions about why I gained back the weight I lost in China when I was in Thailand–I ate a lot of fast food. I was hungry and homesick and in my experience the best cure for that is a trip to McDonalds and a movie.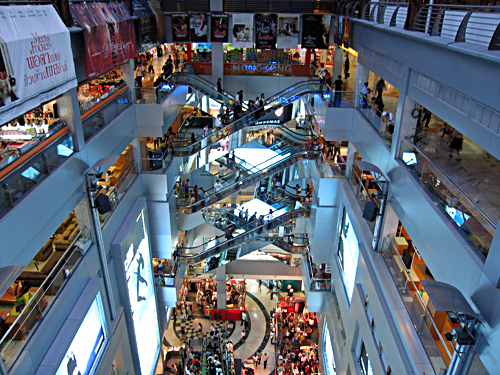 MBK Mall
The movie theaters in Bangkok are mostly in shopping malls–glorious, sparkling, air conditioned shopping malls. I don?t think anyone can give me a hard time about enjoying shopping malls and Western food after my time in Western China and Northern Laos. It?s clear that I appreciate other cultures and want to see areas off the beaten path but sometimes I just want to order a meal and know exactly what I will get. The great part about Thai movie theaters is that they have assigned seating. When you buy a ticket you walk up to a woman behind a glass enclosure–much like in America–and she puts her hands together in a prayer position or "wai" (even Ronald McDonald wai?s in Thailand.), bows, smiles and says ?sawatdee.? You tell her the movie title and time you want and she brings up a computerized seating chart on a screen in front of you where you can pick your seat. This is great if you want to get a good seat but don't want to wait in line. Your ticket is printed with your seat number and an usher brings you to your seat. Typical previews play first followed by an announcement to stand for the Thai National Anthem. Everyone stands and actually pays attention while "feel good" images of the king helping the poor and holding babies flash across the screen. The Thai reverence for their king is interesting. It is the only SE Asian country to not fall under imperialist Western rule and has a stronger national identity as a result. The king has no real power, much like England's system, but his face is plastered all over the country. Western movies are shown in their original English with Thai subtitles so it's easy to watch. I found that I laughed at jokes before anyone else and some references passed over the rest of the audience but it felt like being back home in a 30 screen megaplex with stadium seating.



Life-size cut outs of the King and Queen // Water taxi // Tourist being interviewed by MTV Thailand
My main purpose in Bangkok was to arrange further travel. It is a major transportation hub for the region and I planned on going to Myanmar and then on to Tibet. Of course, this is when I found out about my dad's poor health and decided to come home early. No one wanted me to come home right away and they told me that I certainly had enough time to go to Myanmar so I booked a round trip ticket with Poona, my new favorite travel agent, and set out to get a visa. I don't trust visa services to handle my passport, especially in Bangkok where I had heard many fake visas are issued, so I hopped on a river boat down to the area where Myanmar's embassy is located and stood in line to apply for a visa. Surprisingly, it took 3 days to get the visa issued (I thought I would get it back the same afternoon). I had plenty of time to see the sights during the day–the beautiful Wat Pho, Palace, Wat Arun and National Museum–and go shopping at night. I quickly learned what public buses took my to the MBK shopping mall (where I saw quite a few movies) and where the best CD sellers on Khao San Road were.

The architecture is a lot like Laos, but with more mosaics // Me & my sunburn at the palace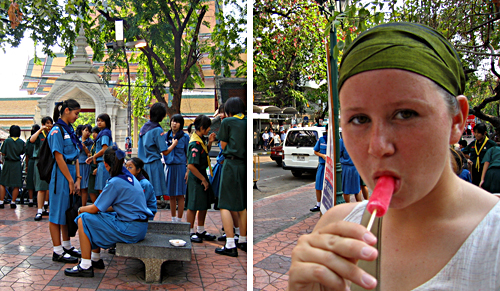 I met teenage Thai girls in uniforms // They gave me a tiny popsicle
I was in a bit of a daze from the news from back home so I wandered around a lot, not really doing anything. I was fascinated by all of the groups of Western kids (I was on the older side of travelers on Khao San Road) drinking on the street or in Irish bars, getting their hair braided in the middle of the street or getting tattooed in the back of a converted VW bus. I never meet people in big cities. Usually there are so many people going about their own business, with their own friends that a solo traveler gets lost in the commotion. The only person I remember talking to me was an older man at breakfast one morning. He told me to cheer up and I told him my dad had lung cancer. Confiding in an English sex tourist who was drunk at 8am was not much comfort. I did a lot of people watching–mostly of the other tourists. I ate Pad Thai, banana pancakes and fruit shakes from street sellers. I started making a list of what I wanted to buy when I got back from Myanmar.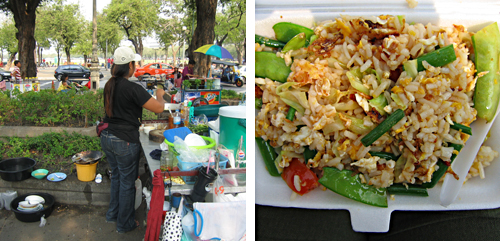 Food seller near Palace // Chicken fried rice to-go

Khao San Road at night // Khao San Road tsunami death postings
I also booked my return flight to Chicago through Poona who found me a one-way fare to Chicago for $450! That was a great deal, which I thought was routed through Korea. The next day she handed me a ticket on Kuwaiti Airways. I realized that she had said my flight would be routed through Kuwait, not Korea, and I had misunderstood her. I got a bit nervous and joked that I hoped she wasn't sending me on a military plane. Then I turned to the map on her wall and saw that Poona was sending me in the wrong direction! The closest route between Bangkok and Chicago was East and she was sending me West. No wonder I had assumed she was sending me through Kuwait because that would make sense. As I thought about it I started to get nervous. Would the airplane be in good shape? Would there be in-flight entertainment? And most importantly, how long would this flight take? Poona insisted that the flight would only take 15 hours. I did some research and a bit of math and determined that with the time difference the flight would take 30 hours. She thought I was being silly, questioned my math and said not to worry. My math sills are questionable, but I did the calculations twice and even checked on Kuwaiti Airway's website. But the ticket was bought and I called home to tell my parents I would be home in March after a brief stopover in Kuwait.
You can see the photos from Bangkok in the gallery and drawings in my sketchbook.