Northern Laos isn?t the easiest place to transverse quickly. The roads are narrow, hills are tall and potholes numerous. A large group of people left Muang Ngoi at the same time as me and my friend. He left for the city on the first bus while I stuck around Nong Kiaw to wait for the songthaew Northwest to Udomxai. Three other Westerners were waiting with me including an older South African couple who I mistook for Australians–not many people start drinking at 8 am. They were in a hurry to get up North to Luang Nam Tha, where I was heading. When the husband asked why the 8:30 bus wasn?t leaving at 8:30 the driver explained that it wasn?t 8:30 on his watch. It turned out his watch was twenty minutes late. We tried explaining this fact to him to no avail. Surprisingly, this was the most on-time bus ride I took for the remainder of my time in Laos.

We eventually left after picking up a few more Westerners who arrived on the second, slower, boat from Muang Ngoi. About five hours into the trip the songthaew suddenly stopped along a steep mountainside. We were all ordered to get out while the driver inspected the newly flat tire. All of a sudden he got in and took off down the mountain. At this point I wasn?t shocked and just sat down on the side of the road and read my novel. The others were a bit more skeptical because all of our luggage had been tied to the top. I figured that since the locals had been kicked off as well we had a good chance of things working out in the end. Assuming the repairs would take a few hours I hunkered down to get some reading done but after only thirty minutes we all squeezed back into the songthaew and were on our way.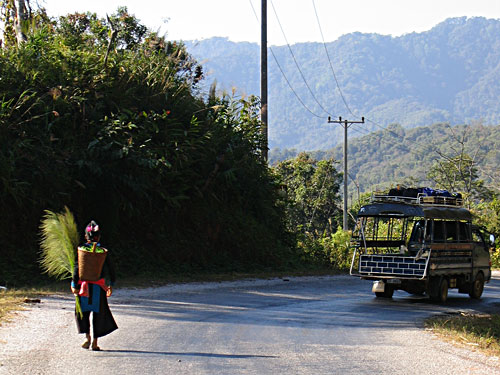 The songthaew leaving with a flat tire… and our luggage.
Although we all wanted to go to Luang Nam Tha and tried to bribe the driver to take us straight there we were dropped off in the junction town of Udomxai in the late afternoon. It was well past time for any more buses to be heading up North, another four hour ride but the South Africans were determined to get out of town. Of course I was tired of spending entire days on bumpy, uncomfortable buses but even if we left straight away we would be arriving well after dark. He managed to arrange a driver to take the group up to Luang Nam Tha for $45. That worked out to about $6 each or 60% more than the local bus. Although I am not on a very strict budget the price seemed very high to me. Another girl whom I?d met in Muang Ngoi and I decided to opt out of the ride share even though it meant much higher prices for everyone who decided to go. She was on a tight budget and I was in no hurry so we walked out of the dirt square posing as the bus station to find a room for the night.
The girl working at the first hotel we came to seemed surprised to see two girls with huge backpacks covered in dirt at the door. After consulting with someone she showed us their rooms–5 x 10 foot cubicles with dirty pictures on the wall. We soon realized that the place probably charged by the hour (Udomxai caters to the large population of Chinese truckers passing through). After consulting the map in our guidebook we were completely lost and figured out that the bus station had been moved since the book?s publication. We decided to ignore the book and head out in our own direction. We found a nice, newer hotel with two large beds, hot shower and even free towels. It was a bit more than we were used to paying but worked out okay split between the two of us. This place also had free condoms on the night stand but we decided to pretend it was an upstanding establishment anyway.
Udomxai really is just a hub town, the town connecting the far North with the rest of Laos. Most tourists who end up here spend their time trying to get out. Instead of giving up we decided to head to the most obvious attraction–the pagoda on top of the hill in the middle of town. We arrived at sunset to beautiful views of mountains and the river. Kids ran around the top of the hill flying kites and ignoring our cameras.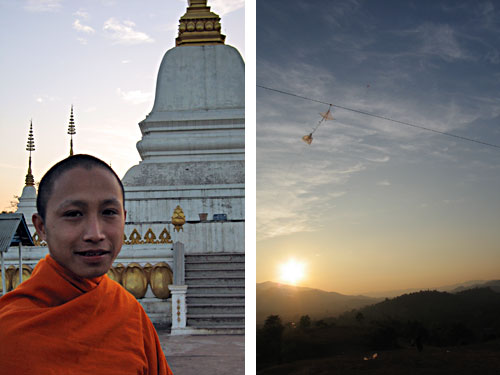 A curious monk; kites at sunset.
Around the back of the pagoda was a monastery and it was only a few minutes before each of us found ourselves surrounded by monks hoping to practice their English. I?m always surprised what monks pull out of their robes. They all seem to have notebooks or English dictionaries hidden somewhere within the folds of the orange cloth. I talked to a few monks and novices. They were very curious about how much money I make, how much my camera cost and other things Westerners would find rude to ask about. At this point in my trip I?d stopped answering money questions–I personally don?t think they can comprehend such a large amount of money. Even if you explain to them that although you may make what seems like a lot of money it doesn't go far when a movie costs $10. Then again, most of them have never even been to a movie theater.

Since you asked, a picture of me on top of the hill.
We excused ourselves to eat dinner, which is always a bit awkward with monks because they eat their last meal of the day around 11 am. The rest of the evening was uneventful and we managed to get to the bus station around 6 am for the first bus to Luang Nam Tha. The local restaurants weren?t offering food but my friend hunted down the wandering lady selling sweet coconut sticky rice in bamboo shoots for the four hour ride North.
You can see the photos from Udomxai here.