Day two in Myanmar and I was finally being stared at again! Even though I complained every day in China when the locals stared at me, I missed it when I left. There are so many tourists in Thailand that I wasn't looked twice at. The most attention I could hope to get was from a tuk tuk driver trying to rip me off. I was nothing special. But here in Yangon people were interested in me–kids wanted to sell me postcards, diners watched me walk past, fruit vendors smiled.
Although Myanmar borders Thailand it couldn't be more different. Men wore longyi, the sarong-like "skirt" and women didn't wear pants. The men were thinner and women were heavier. One Chinese tourist told me that he had come to find a wife because the women had more curves. I was fascinated by the streets of Yangon, watching old men inspect jewels on the street corner next to my hotel and children playing soccer in-between passing cars. Click here to watch kids playing soccer below my hotel during the night. (Quicktime 1.4 mb)
I had saved an entire day for The Shwedagon Paya, Myanmar's holiest Paya or Buddhist temple. After a breakfast buffet on the roof of my hotel I met a German man named Lutz who was heading in the same direction. Together we walked to the market, looking for the local bus that would take us North to The Shwedagon. It didn't take too long before we flagged one down and tried to climb in the back. The man collecting fares directed us to the cab next to the driver–quite an honor. Jumping out, our money was refused and we headed toward The Shwedagon.
We could see the huge stupa rising up on the street in front of us, but decided to step into another paya along the way which looked interesting. The Maha Wizaya Paya was a newer building with entrance arches covered in surreal depictions of Buddha's life. The circular corridor was lined with glass cases depicting the great cities of Myanmar, including Bagan and Inwa. What made this stupa special was the hollow center. Most stupas contain a relic (a tooth or hair from Buddha) in the center, which is covered and built upon. Local citizens contribute a large amount of their own money to construct payas, although some are fully funded by the government or a wealthy patron. By giving money a person is attempting to gain merit for themselves and their families in their next lives. I believe there a relic in this stupa but people could get close, sit around the center and pray.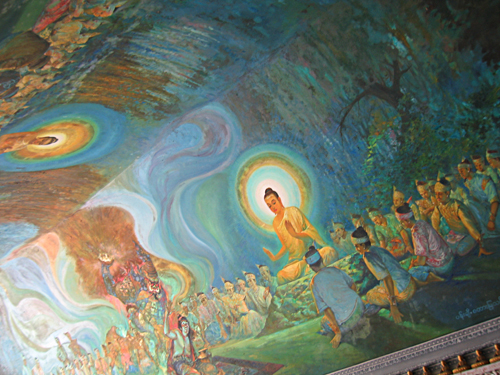 Psychedelic mural at Maha Wizaya Paya
(more…)